Being an established category behemoth, the skincare market is highly diverse with advancements in beauty technology and product innovation, where active ingredients in formulations serve as the main differentiating tool to set these products apart. Consumers now are paying more attention to the ingredients used in skincare products than before and are doing their due diligence on the ingredients before purchase. There is an increased understanding of the compatibility and suitability of actives on the consumer's respective skin needs. Of course, well-known active ingredients such as Hyaluronic Acid and Retinol (Vitamin A) would continue to be a popular favourite due to their effective benefits based on their long established history of clinical trials and research evidence to support these claims. But as product and ingredient innovations in the beauty sphere continue to advance, more and more functional active ingredients have started to make their mark in the beauty industry.
Here at Laudrés, we've identified and researched on both the known classics and new trendsetter ingredients into our beauty cocktail blend that is the Dual Serum Collection. The combination of the old and the new is indicative of the duality symbolism in our brand essence. Having done our own due diligence on these ingredients before our product development stage, we know that they would definitely be worth your while for your respective skin profile – skin type and skin concerns included. We're confident of the cocktail skincare mix and we're thinking you'd be just as pleased and confident too. 
Acetyl Hexapeptide-8
This famously known peptide, commercially known as Argireline and commonly termed as the "Botox in a jar", is a synthetic peptide that was derived from a protein in Botox, Botulinum toxin, with water-binding and skin building properties. The Acetyl Hexapeptide-8 aids in the prevention of muscle movements by relaxing repeated facial expressions such as laughing, frowning and smiling through non-invasive, topical skin application. Having water-binding properties means that Acetyl Hexapeptide-8 works best in formulations with humectants such as Hyaluronic Acid or its Sodium Hyaluronate derivative and an occlusive ingredient to help lock in the moisture within your skin's barrier. With continued use of the Acetyl Hexapeptide-8, fine lines and wrinkles will slowly diminish and deep skin creases will be lifted, resulting in a smoother and a more youthful skin complexion. It is also important to note that even though the Acetyl Hexapeptide-8 has coined the term "Botox in a jar", the extent to which it's able to smooth out wrinkles and prevent facial muscles from contracting is not as effective and efficient as the actual invasive Botox treatment itself.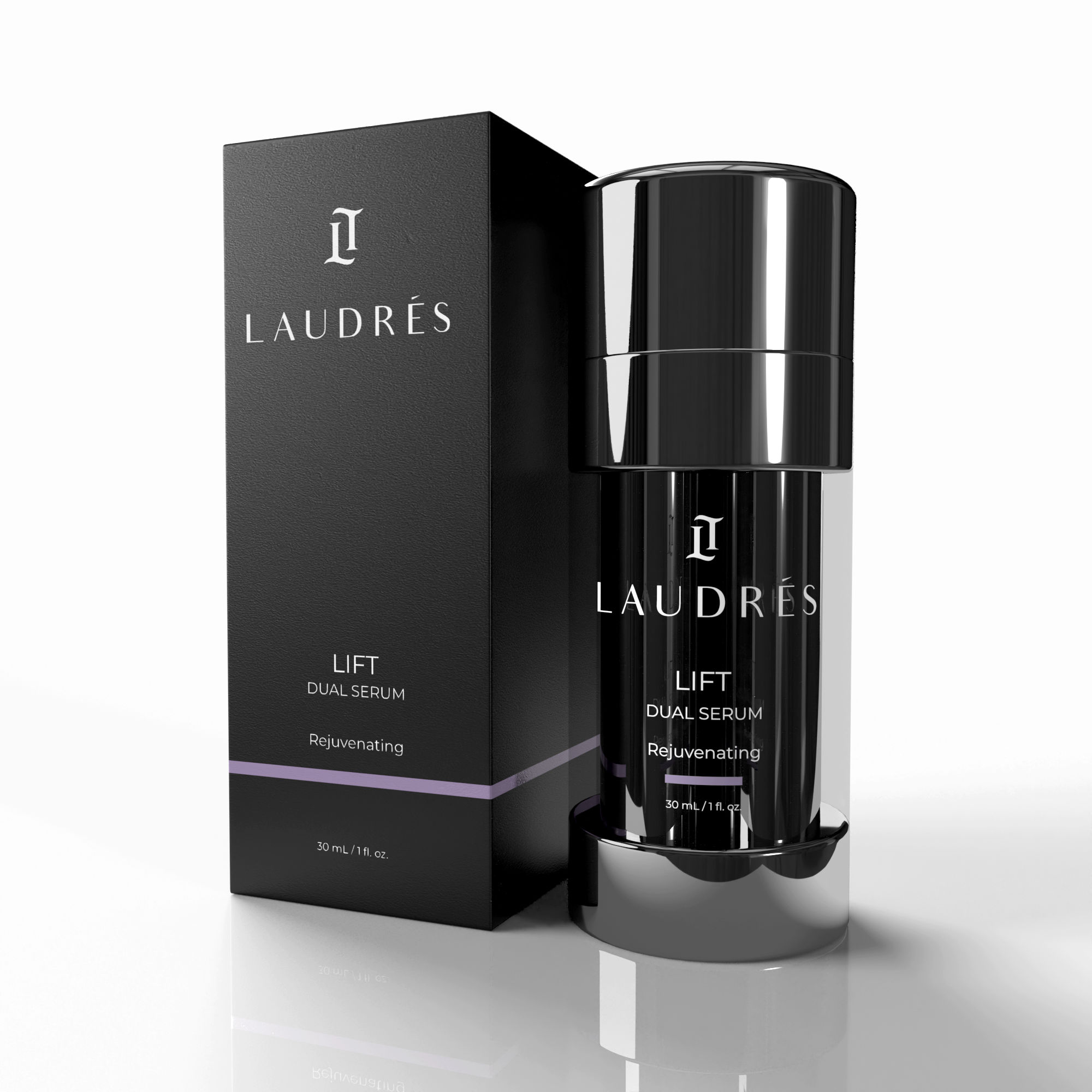 Lift Dual Serum
contains Acetyl Hexapeptide-8 that well complements Sodium Hyaluronate active found in the PuraKrin
™
gel chamber. 
This powerhouse duo pairing increases penetration into the skin for a more effective lifting and anti-aging effect on the skin.
Ceramides
One of the natural moisturizing factors found in abundance in the uppermost layers of the skin are a type of lipids (fats) called Ceramides. Making up more than 50% of the skin's composition, ceramides are essential components of the skin that are vital to restore the protective skin barrier to retain skin moisture and lowers the Transepidermal Water Loss (TEWL) of the skin. By forming a protective layer on the skin, ceramides hold the skin together to minimize water loss and protect the skin barrier against urban aggressors such as pollution and other environmental stressors. However, the effects of our natural ageing process in addition to constant exposure to pollution and UV radiation from the sun, will deplete the concentrations of ceramides in our skin over time and our skin barrier will be compromised. This will result in skin dryness and irritation. Fortunately, there are many skincare products formulated with ceramides to introduce them back into the skin by restoring your protective skin barrier and increasing your skin's moisture levels. Ceramides complement most, if not all actives in product formulations to boost the effectiveness and penetrate deeper into the skin as well. 



Dew Dual Serum
contains three forms of Ceramides – Ceramide AP, NP and EOP, for an all-rounded moisture lock that protects the skin from urban and environmental aggressors.
Retinol
Indeed, retinol is an established powerhouse active known to boost collagen production and increase cell turnover rate. Retinol, the most stable and more tolerable form of retinoids (Vitamin A), is a potent multi-functional anti-aging active that can increase the appearances of fine lines and wrinkles on the skin, treat hyperpigmentation and manages your skin complexion by evening out your skin tone and smoothening the skin. Retinol can be found in OTC (Over-The-Counter) product formulations and need not require a doctor's prescription for purchase. It is recommended to apply retinol only at night and to skip on other AHA/BHA and Vitamin C serums. Doubling up on these strong acids with retinol usage might end up compromising the skin and result in skin irritation instead. It is also advisable to use SPF-/sun protection products the following morning as retinol increases the photosensitivity within the skin. Increasing photosensitivity within the skin would mean that the skin is vulnerable to UV radiation from the Sun and could result in skin redness and sunburn more easily. Nowadays, brands have innovated new encapsulated delivery systems to help ease gentle penetration of retinol into the skin. 
ACE Dual Serum
contains Encapsulated Retinol that helps refine skin complexion to promote smoother, stronger and more resilient skin.
Tranexamic Acid
The uncommon, yet trending brightening Tranexamic acid active has come to light as more and more known skincare brands such as SkinCeuticals, Shiseido and SkinMedica have incorporated it into their product formulations. Tranexamic Acid is actually already an established drug in the medical world to help slow down bleeding by reducing the breakdown of blood clots. It was only during recent years where dermatologists and cosmetic scientists discovered additional benefits with regards to topical application onto the human skin. Tranexamic acid, when formulated into skincare, is able to brighten skin complexion and improve forms of discoloration onto the skin, hence addressing pigmentation, melasma and age spots skin concerns. As a depigmentation agent, it helps to regulate melanin production by blocking melanin-stimulating hormones and removing the excess melanin produced. Continuous use of Tranexamic acid could help minimize pigmentation spots, freckles included, upon sun exposure. This potent brightening acid works well when paired with antioxidants like Vitamin C and is compatible with other skincare ingredients as well.
Glow Dual Serum
contains Tranexamic Acid that boosts the skin's natural radiance to instantly revive dull skin complexion.
Turmeric 
Sugar, spice and everything nice. As a popular ingredient for health and wellness, turmeric is slowly beginning the next "IT" active in skincare as well. The yellow-tinged active ingredient has both anti-inflammatory and anti-microbial effects which helps to soothe and calm irritated skin and skin concerns such as skin redness, blemishes and breakouts. The curcumin compound in turmeric has great antioxidant properties to help improve skin protection, making it more resilient to UV damage and control sebum production levels too. Incorporating turmeric into skincare formulations makes it perfect for individuals with oily, acne-prone skin to soothe their skin redness and irritations. All in all, turmeric is a powerhouse antioxidant and calming active to keep the skin supple and improve the skin's elasticity too.
Glow Dual Serum
contains Tetrahydrodiferuloylmethane, a natural extract derived from turmeric roots, that boosts the skin luminosity effects while providing antioxidant protection to the skin.
Halcyon Dual Serum
contains
 Curcuma Longa (Turmeric) Root Extract to help manage skin redness and irritations by reinforcing the skin's barrier function.